Google Docs has grown immensely in functionality since its debut in 2006. The app isn't just a word processor anymore. In this post, we'll take a look at three features of google docs that are hidden in plain sight: Voice Typing, the Dictionary, and the Explore tool.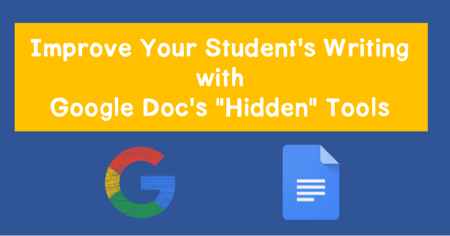 Voice Typing
Do you have students that have a hard time getting their words from their brains onto a google doc because the dexterity to type isn't there? Or maybe you have a student that is staring at a blank page and "can't think of what to write." Or students that are dyslexic or dysgraphic and need support when it comes to writing?
Show them Voice Typing in google docs! It's a super-simple tool that speeds up the process of getting words onto "paper." Better yet, once the words are on the google doc, the real work (and learning) of writing – the revision process – can begin.
I understand that this accommodation might not be available in every instance in the student's life (ie, standardized testing). That said, being able to use this tool to become a better writer is going to benefit a student in every single aspect of their academic (and later, work) lives. It beats staring at a blank sheet for 25 minutes!
To use Voice Typing, go to Tools –> Voice Typing. The first time you use it, you permit google docs to use your microphone. After you grant permission, a microphone will appear in the left margin. Click it and start talking!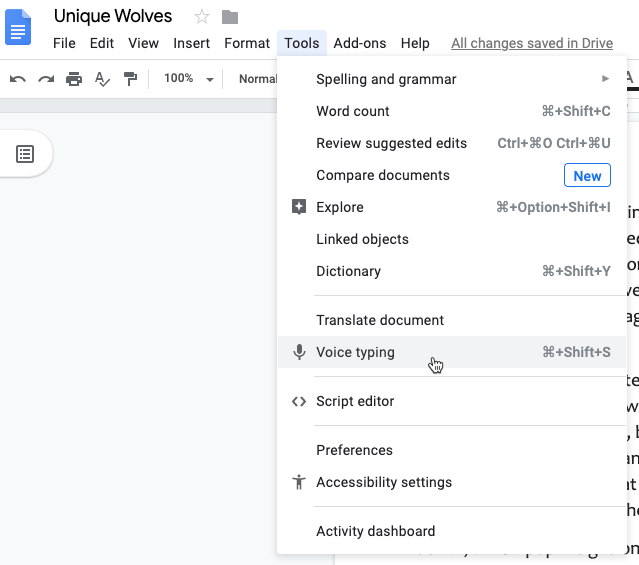 Dictionary
Want to keep your students on the google doc and not out searching the web for tools (or, let's be honest: youtube videos, online games, memes, social media)? Also under the Tool menu is a Dictionary that students can use to find definitions of words they might not understand or synonyms for words. If the student has used the word "extremely" five times in two paragraphs, comment and send them to the Doc Dictionary.
They'll find it under Tools –> Dictionary. It will open in the panel on the right and the student can copy and paste an unknown word or type the word in the search space.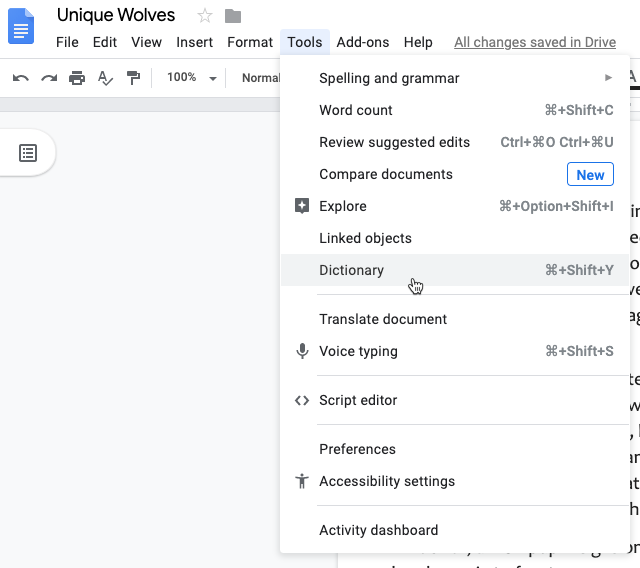 Explore Tool
The Explore Tool in Google Docs is awesome! If it's launched after your student has the meat of their writing done, it's smart enough to see the content in the google doc and make suggestions for further information. They can access it by clicking Tools –> Explore.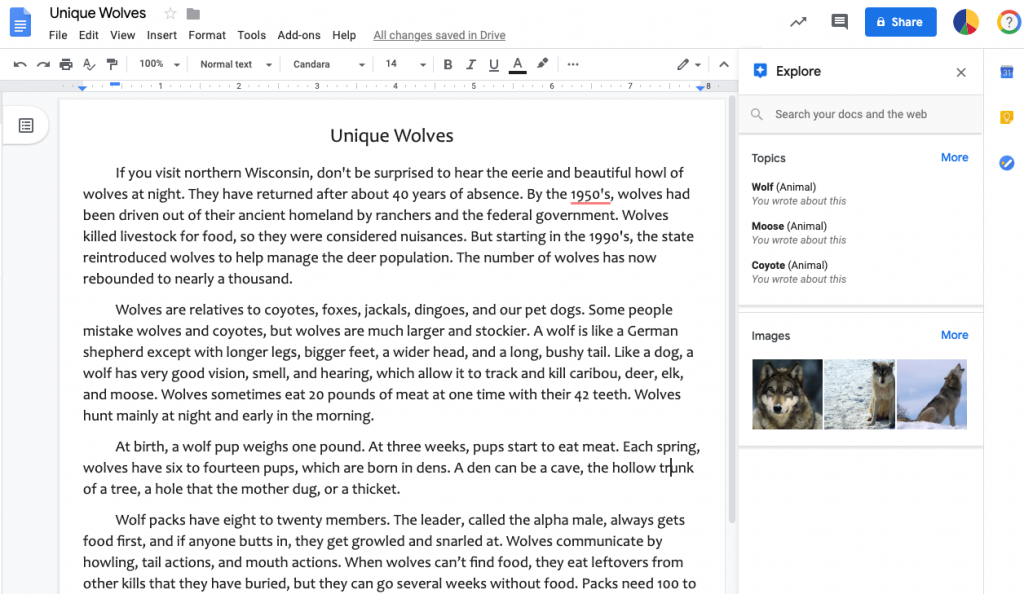 From there, the student can click on any of the topics suggested, or a student can type in the search bar for anything not picked up by the Explore Tool. The student can then search the web for information or place images beautiful images into their google doc with a single click.
The explore tool also has a fantastic feature for citing sources as footnotes. The search is a "safe search," so the results are much more likely to be relevant to school topics and much less likely to be inappropriate. BEST OF ALL, it's all from inside the google doc – no extra tabs or searches that pull in tons of irrelevant information for your students to sift through!
GIve 'Em a Try
Give one (or all) of these simple tools a try – I think you'll find they help your students to become better writers and create writing products that they would be excited to share with a wider audience
The writing sample above was taken from K12 Thoughtful Learning
---
Want to keep up with new blog posts, tech tips, and other content? Subscribe below and receive an email when new content is posted here. As a thank you, we'll send you a free Google Form + Google MyMaps activity you can use with your students tomorrow.
No spam, ever. No address selling either. Ever.